On this page you will find all the information you need to choose the products that best suit your needs. However, should you be wondering, send us an e-mail. 
Brass: Brass is our favorite option. It will still tarnish, however it is a little slower than copper. Please note that the tarnish may start during shipping and it can arrive with some dark spots. You can clean brass the same way you can clean copper. Brass is also durable and the stamps show up nicely.
Aluminum: Aluminum are the softest of the four metal options. That means that these to are the easiest to bend. If your dog is rough on tags, we do not recommend this option. Because of the softness of this metal, the stmaps show up wonderful and are very deep in the metal. Aluminum won't tarnish like copper or brass, but still gets dirty. Cleaning is a little bit easier for this metal. 
For the best safety and an advice for you to not lose your new tags we do recommend you to only use a large splitring/keyring. Please use the one that comes in your package. We are not responsible if your pet tags get lost or fall off. 
Always clip your leash to your dog's collar or harness, not NOT the tag's hardware. 
Alle våre ID-brikker er håndlaget, de er ikke lasergravert. Dette betyr at ingen brikker blir like, og hver enkelt vil være unik! 
Brass (gold) and aluminum will tarnish over time, it is inevitable. This process will occur faster when exposed to rough elements such as rain and dirt. BUT, it can also occur during shipping and this is not a reason for us to replace the tag. To clean up a tag, you may use a general polishing solution. Another method to keep your tag looking new is to use extra fine steel wool 0000 and gently brush it over your tag. This will also help to hide any scratches. 
When you order a tag, it comes with a black enamel to fill in the lettering and numbering. If your dog loves a good adventure (swimming in the lake or playing in the snow), that enamel may wear away over time. This enamel will also wear away when you polish with super fine steel wool. No worries! You can take a fine tipped Sharpie and color in the lettering again. 
Finally, make sure to always clip your leash to your dog's collar, NOT the tag's hardware. Attaching the leash to the tag is potentially dangerous and if your dog were to pull very hard, the key ring may break open. The collar has a spot for your leash, so please use that instead!
Tags are made to order and are custom for each dog. Please double check the spelling and phone number you put in. There will be no re-makes for an error on your end. If we make a mistake, please contact us within one week of receiving your order and we will discuss the issues individually. 
My Furbaby is not responsible for your Pet tag after you have received it and we can not be claimed responsible if your dog chews or swallows the pet tag or if something happens to your dog (this includes all of our products). 
Lightweight
Silky shiny and smooth surface
Non-toxic, safe for humans and dogs
Resistant to mildew and rot
Dosen't get dirty quickly - easy to keep clean
Rope size: 6mm (small dogs), 8mm (medium dogs), 10mm (large dogs)
Standard lenght 1.8m (length may vary slightly)
If you have a really small dog (maltese, pomeranian etc.) just send us a note with your order and we will make your leash with the smallest carabiner (smaller than standard carabiner on 6mm ropes).  
Perfect for rainy days, adventures in the woods or just on your daily walk with your dog!
This material is abrasion resistant, 100% water and bacteria resistant, and does not stretch. 
Length: 1.8m
Width: 16mm and 19mm
Choose between all of our colors that are available in our shop. 
This collection is a mix between our Ebony and Explore collection, the product line is mainly designed for medium to large dogs. 
The rope is silky, shiny and have a smooth surface
Non-toxic, safe for humans and dogs
Length: 1.8m
Non-toxic, safe for dogs and humans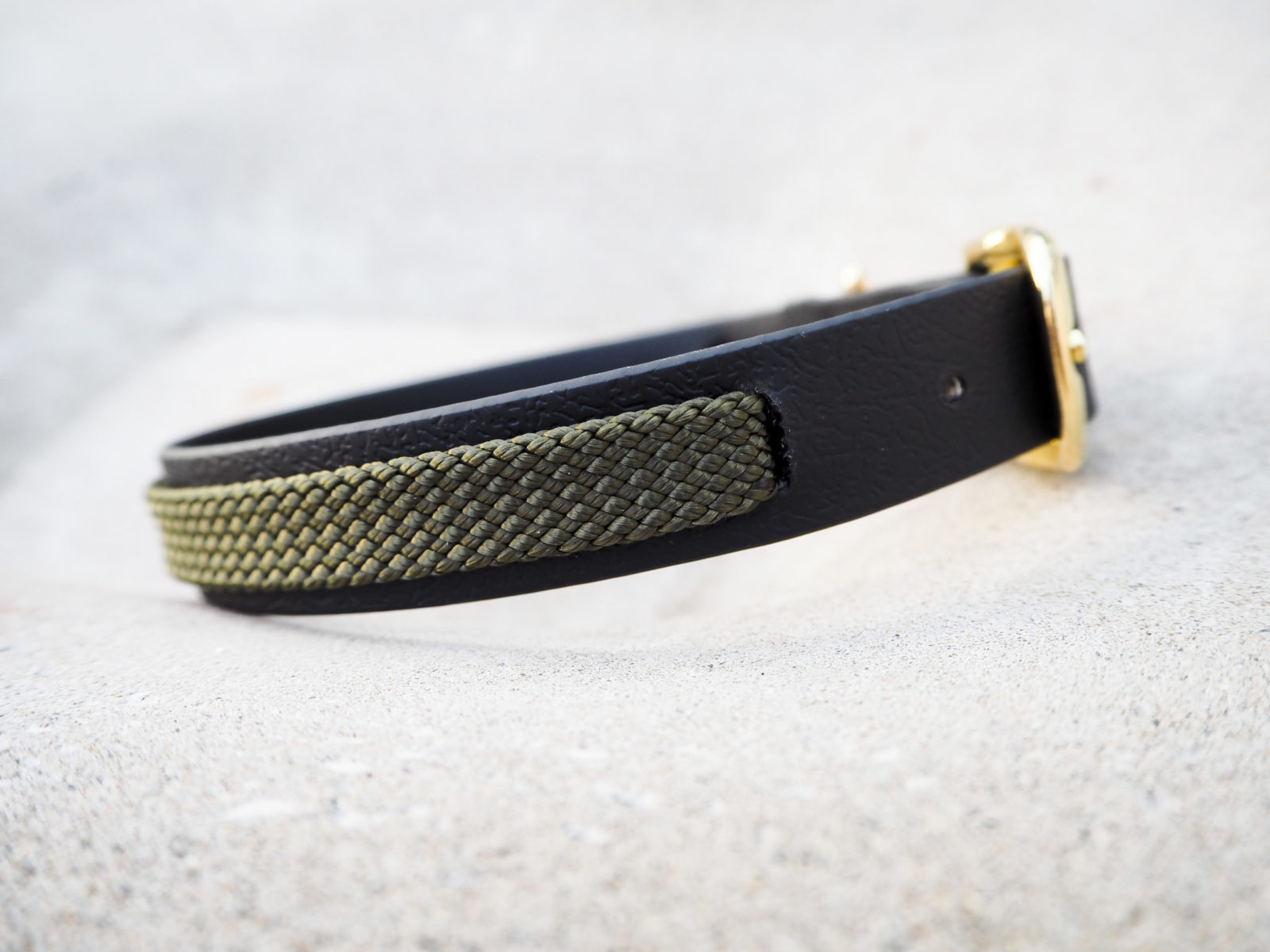 Collar
Leashes